Beginning Early in Design Development
Using the inherent power of Integrated Systems Diagnostic Design, or "ISDD", the Expertise of the Diagnostic Design data is captured and vetted for accuracy and completeness within the eXpress diagnostic modeling process. As the functional and failure causes are propagated throughout the Design architecture during the Design Development process, the functional and failure interdependencies are also established and retained within the eXpress modeling process.
Have eXpress Capture Design and Support Expertise
Since eXpress is a very capable and sophisticated diagnostic engineering tool, it has an assortment of advanced facilities, some of which accommodate and expedite the gathering, storing, interconnecting and propagating of any of the properties of any components, or any set of components contained in any design. This will be the case regardless if we are referring to the use of any level or multiple levels within any design, subsystem, system or system of systems (SoS). One of the core strengths of eXpress is to provide a palate to establish such a robust capability.
Have eXpress Check Your Work – and All Contributing Parties
Once the eXpress design is considered to be at a point of evaluation (as determined by having eXpress auto-check the models for the existence of any logical errors), then it will structure and organize all of the data contained within each component contained in the model. Since the model represent the propagation of functions and failures throughout the design, it will establish any and all of the known or unknown interdependencies. As these interdependencies are further propagated among any other "integrated" design contained within the "system" architecture, these interdependencies establish more comprehensive functional and failure interrelationships extending throughout the "integrated system".
Once we've been able to capture and validate all of the functional and failure interrelationships between any or all of the integrated designs contained in the system(s), we can now create an "Expert Diagnostic Knowledgebase".  Eventually, this Knowledgebase can serve as an invaluable resource that is capable of accommodating any design updates or modifications either during the design development and/or during design sustainment lifecycle(s).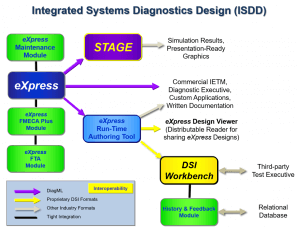 Realize Value in Design Development and Sustainment
ISDD provides a springboard towards drastically reducing the development schedule and costs of developing such a similarly robust knowledgebase for future variant design, if any. Keep in mind that another ISDD tool, Run-Time Authoring Tool, or, "RTAT", is able to merge any design documents, drawings, images, videos or maintenance procedures with the Diagnostic Knowledgebase from eXpress for one-button transfer to the Field Technician using "DSI Workbench", for run-time guided troubleshooting. If one prefers to use their own Portable Maintenance Aid or Integrated Electronic Technical Manual, or "IETM", then the DSI Workbench "Reasoner" can be deployed into the native environment through an appropriate objective-specific API.
For on-board uses of the diagnostics generated by eXpress, the "eXpress Embedded Reasoner" can also be deployed to work with the on-board Health Monitoring or Health Management System(s). This is an advanced application, but provides a consistent methodology to tightly integrate the on-board Health Management to the off-board diagnostic environment. Please see the "eXpress Maintenance Module" for details on linking the on-board diagnostic capability to the off-board environment with unmatched diagnostic acumen.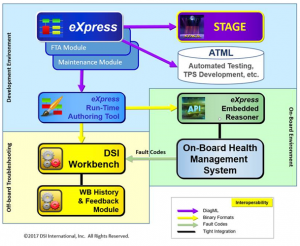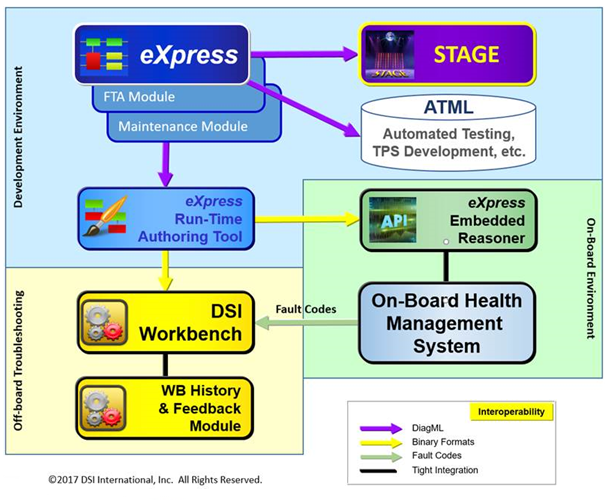 Ensure Sensor Corroboration and Explicit Test Coverage
With ISDD, all of the sensors used throughout the subsystems are fully described in the eXpress Diagnostic model. When the eXpress model is "processed" by eXpress, "ALL" of the interdependencies are identified and exposed to elaborate diagnostic design scrutiny, including the ability to determine the confidence or effectiveness of the sensors as used within the design architecture. As such, the Test Coverage for every sensor contained therein is fully represented and extrapolated throughout the integrated design(s), and any constraints (knowingly or unknowingly) reducing or "interfering" with the BIT Test Coverage (as may exist in any operational mode or "state") is fully considered and reported within eXpress for better-informed design or sustainment decision-making purposes.
Since the diagnostic interdependencies are fully represented as a core characteristic of the expert diagnostic knowledgebase, it will be fully capable of determining the effectiveness of on-board BIT for any of the systems exercising this capability, specifically for such purposes as any operational "Health Management" implementations, if any.
The eXpress Design Viewer is a Free "Shareware"
Once the eXpress Diagnostic Model has been exported through "DiagML", it can be immediately "published" in RTAT and a "Project Data", or "PD" file is generated. This PD file is a highly compressed file that is intended to be sent by electronic transmission to any or all program parties so they can review the same project file. The recipient does not need to purchase any software application on their computer to read and open the file for technical review. Instead, the recipient only needs to install the free "eXpress Design Viewer" onto any computer used to view the PD file. The eXpress Design Viewer is available from the DSI website as described below.
Ensure Health Management Provides "Diagnostic Conclusions" to the Field
Independently-developed Health Management Systems (IVHM, ISHM, SHM, PHM, etc.) or Conditioned-Based Technologies (CBT) have not typically been designed in coordination with the "bridging" of the on-board "diagnostic conclusions" to the off-board continued diagnostic environments. This has been a ubiquitous shortcoming of the designing for on-board Health Management Systems as the off-board diagnostic activities are either funded separately from a sustainment budget and/or Health Management system or such on-board designs lack the diagnostic acumen to enrich the off-board paradigm (IETM, Portable Maintenance Aid, etc.) with ambiguous Fault Codes to use as entry points to begin further diagnostic activities.  This traditional approach is constrained and ineffective.
Traditional approaches that use operational run-time-generated fault codes as an entry point to begin any secondary diagnostic endeavor. However, such traditional approaches simply waste the diagnostic knowledge that was available during operations as reported and collected by on-board Health Management System from its automated interrogation by CBIT, SBIT, etc. This renders such narrow sustainment approaches incapable of sending diagnostic conclusions that could have been otherwise gained from the BIT to the IETM (or any other second diagnostic level tool or session).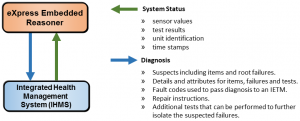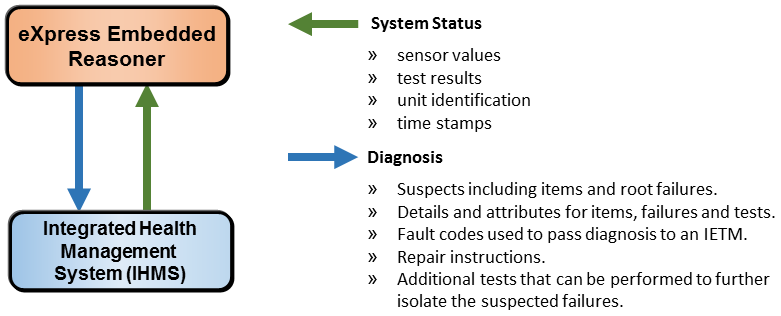 Ensure Desired Level of Expertise is Available to All Skill Levels
Along with the "bridging" or transferring of diagnostic conclusions (in lieu of the simplistic BIT "test results") to the ensuing off-board diagnostic session, ISDD continues to be effectively engaged in the systems' sustainment paradigm. When extending the use of the eXpress captured expert diagnostic design knowledgebase to the Field Technician, guided troubleshooting activities not only begin with a greatly reduced set of diagnostic ambiguity, but all can follow a systematic and effective diagnostic sequencing to isolate any and all failures, or impending failures if using CBT. Furthermore, the Guided Troubleshooting capability in DSI Workbench, will offer unprecedented interactive diagnostic insight and guidance while placing every useful procedure, panel, image or document to compliment the steps in the diagnostic session.
The field technician's diagnostic experience is managed by requirements as may be deemed or described in the approved sustainment approach for any specific program, but otherwise, this technician will be fully capable of performing as effective or better that the Responsible Engineer or Subject Matter Expert.
Targeting Your Application for Success
This capability has extensive customizing alternatives to service a broad range of critical or sophisticated products ranging from advanced, large-scale military systems, to rail transportation, advanced automotive, energy or communication systems. Bringing the "Collaborative" Expert Knowledge to the Field Technician.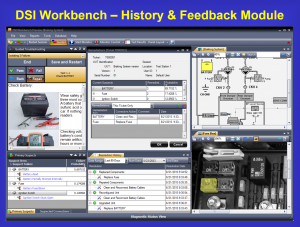 The diagnostic experience that is placed in the hands of the field technician MUST be considered a "Design for Sustainment" activity that is performed in the Development Process so it is developed as an output directly from the diagnostic design of the fielded product. This is a seamless and repeatable endeavor when using ISDD. For further and advanced assessments, the diagnostic effectiveness per any sustainment paradigm can be fully exploited using "STAGE", which provided a potpourri of data analytics for extensive operational evaluation.
The Limitations of Spreadsheets as a Diagnostic "Knowledgebase"
The reliance on Diagnostic development for critical or sophisticated systems without the use of eXpress, and as solely contained and represented in "Spreadsheets", is an antiquated, costly and vastly inferior endeavor. The data contained in various cells in any spreadsheet is unable to describe any of the diagnostic interdependencies with or among any other data contained in any arbitrary cell, or if there is, in fact, any diagnostic interrelationship. This limitation inherent with the use of spreadsheets for serious diagnostic objectives is not only incomplete and unsustainable, but can be costly throughout the design development and sustainment lifecycles. As a result, "EXPERT DIAGNOSTIC KNOWLEDGE" to the Field Technician is severely compromised when relying on the use of Spreadsheets for such purposes.
Fortunately, ISDD is a vastly superior and scalable alternative!
Related links
Related Videos