Automated Test and Built-In Test Integration
Run-Time Authoring Tool – ATE and BIT Integration
When troubleshooting in DSI Workbench, test results may be manually or automatically imported from automated test equipment (ATE) or from the built-in tests (BIT) of the system. This process requires select the data type, data location and test identification matching between the ATE or BIT test results and the eXpress design.
Test Results Data Types
DSI Workbench currently supports three different data types for importing test results. Additional test results data types may be added upon request to DSI International. The current test types include:
Automated Test Markup Language (ATML) – IEEE standard 1636.1-2007.
Note: Most of the 1636.1-2013 standard is implemented. For details contact DSI.
Parametric Data Log (PDL) – IEEE Standard 1545-1999.
DSI proprietary XML Test Result format – This standard is designed to be extremely simple to implement (i.e. requires only a test ID and a pass/fail result for each test) and is fully documented in the Run-Time Authoring Tool help files.
Manual entry of fault codes generated by the ATE or BIT.
Manual entry from a list of starting points in the diagnostic flow.
Adding and automating custom views and messages allows the diagnostic designer to optimize troubleshooting tasks by directing the technician to the exact task that needs to be performed at each step of the troubleshooting process.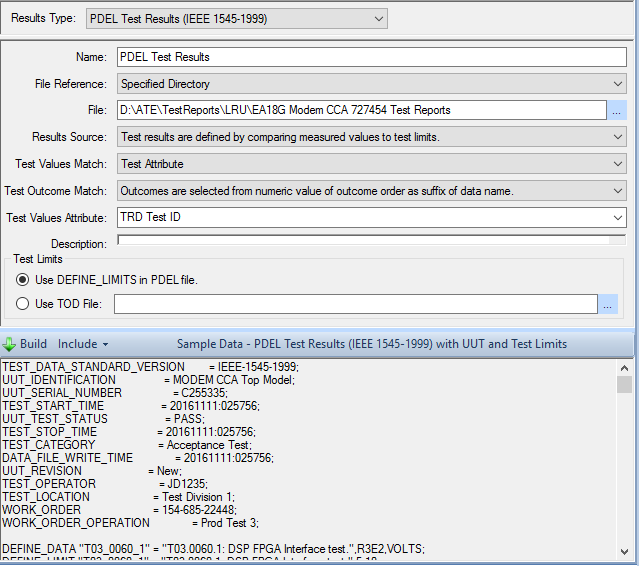 Test results configuration for PDL format showing sample data.
Related Links:
Integrate Test and Diagnostic Tools using ATML
COTS-Based Solution for Through-Life Support
eXpress Newsletter – Fall 2017