New Documentation: Quick Start Guide and Online Help
by
DSI Staff
| Published 07/29/2003 |
Tips and Tricks
Quick Start Guide and Online Help
DESCRIPTIONS:
eXpress Quick Start Guide – provides a quick reference book documenting many of the new features in the latest version of the eXpress software.
eXpress Online Help – An Online Help menu available from within the eXpress software environment to provide the user with a readily available documentation package. The Online help has been updated to reflect the most recent changes to the software and its contents have been restructured to speed up referencing.
With all the capabilities currently found in the eXpress tool, learning how to access and use these features could sometimes be a challenge. To help the user become more efficient in the shortest possible time, we at DSI have developed a Quick Start Guide. This guide provides the user with a quick reference and overview of most all of the menus, features and capabilities in the eXpress environment using many screen captures and graphics to "tell the story" and help speed up the learning process. The screen captures help to lead the user through "how to" procedures of the most common tasks.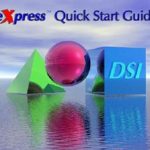 Click here to view larger image
At press time, the final touches are being made to the Quick Start Guide so that it reflects the latest upcoming release of express version 5.8 (see article below for more information).
The new eXpress Quick Start Guide will be available at this year's AUTOTESTCON in Anaheim. Stop by the DSI booth and check it out.
The Online Help has been restructured and organized so that topics are quickly referenced when needed. The new capabilities of version 5.8 (see below) are also included in the updated Online Help.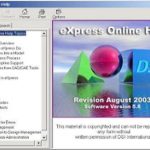 Click here to view larger image