by
DSI Staff
| Published 06/30/2004 |
Interoperability
DSI's New Electronic Design Automation (EDA) Import Module (Part 1)
Integrating your testability environment with the design-engineering environment allows for vital information to be exchanged, at a time in the development process when concurrent engineering has far reaching benefits. However, realizing a link between these two environments presents challenges that can often exceed most of the potential benefits. To ensure that the benefits are achieved with the least overhead, having both a well-defined process and a smooth translation capability is essential.
The need for integrating testability and design engineering arises from the desire to improve long-term maintenance costs through good testability, by allowing testability metrics to drive design changes. This simple feedback of information can be characterized by two paths of data—the flow of design data to the testability environment, and the feedback of recommendations back to the design environment. As the data in each path can be radically different, we will examine each path independently.
Over the last several decades, DSI has provided various imports from EDIF, Mentor, Cadence, etc. We are now proud to announce the latest generation of import. This new import capability is the highest quality import available today, and utilizes a new XML standard called EDAXML (an XML form of EDIF). As part of this new capability, we have teamed up with E-Tools who provide a CAD/CAE interoperability product called E-Studio, which can convert to and from nearly all of today's major CAD tools (Cadence, Mentor, Design Architect, Viewlogic/ Innoveda, PADS, P-CAD, OrCAD and most any EDIF formatted file). When integrated with eXpress, the two tools provide the capability to import objects, ports, nets and attributes with full naming retention while mirroring object layout and positioning.
CAD/CAE tools, also known as EDA tools, are used at many points in the development process. Moving data into the Testability environment can take different paths depending on when the initial transfer first takes place, as well as the actual configuration in which the EDA tools and Testability tools were implemented.
DSI's New Electronic Design Automation (EDA) Import Module (Part 2)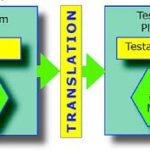 The architecture by which data is moved from the EDA to Testability environment involves two key translation steps. The diagram below shows a generalized overview of the two-step process. Depending on a customers needs, the deployment scenario may vary.
Testability, when taken to its full extent, involves more than just the assessment practices used to analyze the inherent diagnostic capabilities of a given system. Testability's biggest impact comes from incorporating a design influence process, hopefully throughout the entire development. Regardless of the extent to which design influence is realized, the link from the Testability Environment back to EDA is an important one.
The most common changes to the EDA design as an influence of discoveries made through Testability Analysis is that of test point placement. There are also system-level recommendations that filter down to the EDA environment such as redundancy and implementation approach.
DSI's eXpress teamed with E-Tools E-Studio now provides the capability to transition analysis data with design data in either direction.