Multiple Source Licensing
Multiple Source Licensing
Multiple source licensing occurs when the user needs to license multiple products or features using different license sources. Examples of this include:
Multiple node-locked license files
A node-locked license file combined with a server license.
Multiple Node-Locked License Files
When combining multiple node-locked license files copy all license files to the same directory on the license system. FlexNet license points to a directory when a file is selected for licensing. FlexNet will scan all licensing files in the selected directory and combine them to create a single license profile.
Combining Node-Locked and Server Licensing
Multiple license sources or locations may be referenced by adding a semi-colon between each license source when selecting the license source. To do this, the user must:
1.Run the DSI International License Administrator program dsilic.exe and select the "New License" button. This program is found in the follow directory:
On 32-Bit Systems – Program Files\Common Files\DSI International\Licensing
On 64-Bit Systems – Program Files (x86)\Common Files\DSI International\Licensing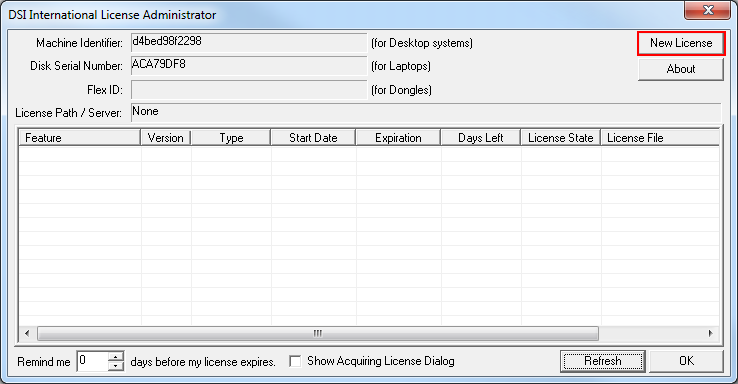 2.Select radio button "Internal Licensing via Intranet". Then beginning with a semi-colon type all license references (e.g. license servers and node locked license files) on one line placing a semicolon between each license reference:
Example: ";Port@LicenseServerHost;C:\Program Files\DSI International"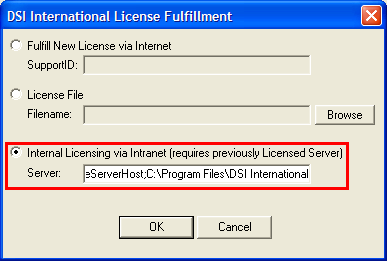 3.Select OK to close the dialog and accept the changes.
4.Check the list to ensure that all available server licenses appear in the License Administrator list as expected. Server licenses will be listed as type floating.