Turn-key Testability Analysis (FD/FI)
With eXpress, your Testability Analysis is automatically created right from your eXpress model. This is one of the flagship capabilities of eXpress that was originally conceived from the very beginning – back into the 1970's actually, with LOGMOD.
Once your eXpress model is established, a simple click on the "grinder" icon in the "Diagnostic Study" (see below) will immediately calculate your Fault Detection (FD) and Fault Isolation (FI) results.
Select Test Candidates
Once you're ready to discover how well your design is able to meet your diagnostic objectives, from within the eXpress "Diagnostic Study", simply select any or all sets, or "Test Candidates" that you wish to include in your FD/FI assessment. You can select any combination of "Test Candidates" in the event you wish to evaluate any particular piece or subsystem within the design.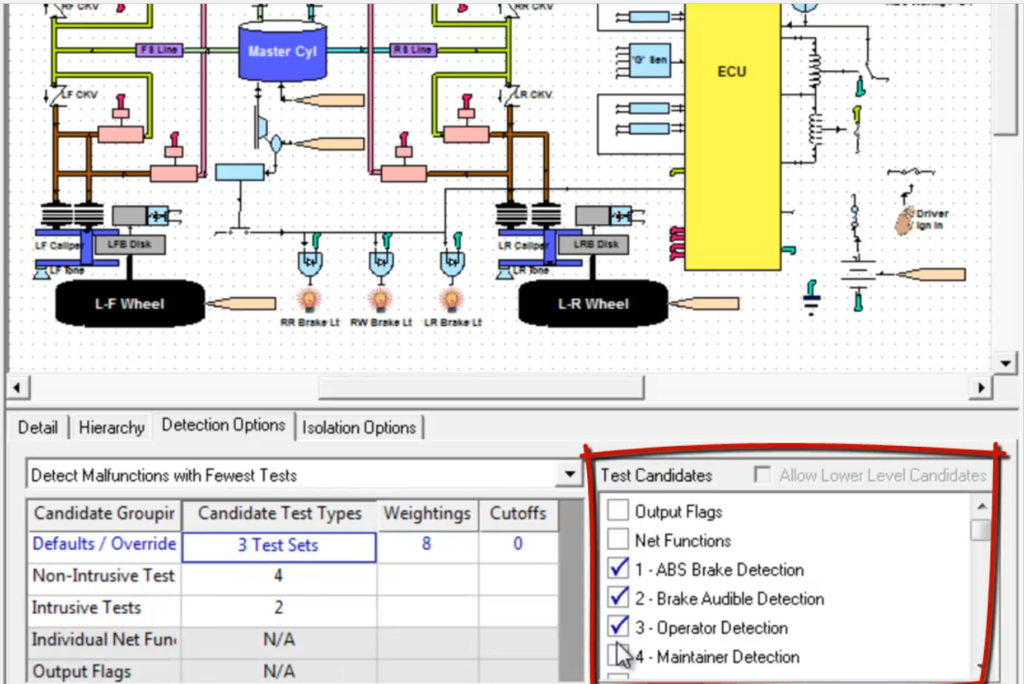 Choose an Algorithm
Next, simply choose a FD/FI algorithm for your assessment by selecting from a pre-defined pull-down menu. For those only concerned with achieving FD/FI requirements, you'll want to use the algorithm labeled, "Common Cause Half-Split Failure Probabilities".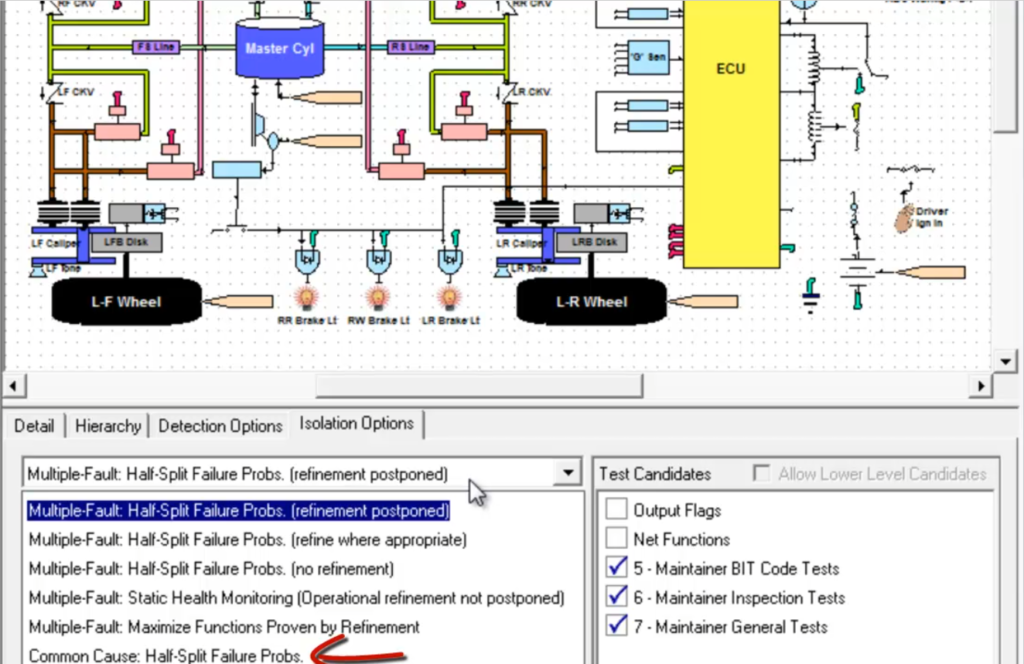 Ample Headroom:
Certainly, you have plenty of options for FD/FI algorithms, but most FD/FI requirements do not typically serve to actually maximizing or optimizing your sustainment accuracy or operational objectives. As you become familiar with the robust capability of eXpress, and you become active in the operational success of your fielded design, you'll be pleased that you can simply choose any of the more advanced algorithms packaged within eXpress to achieve the demands of the most sophisticated designs.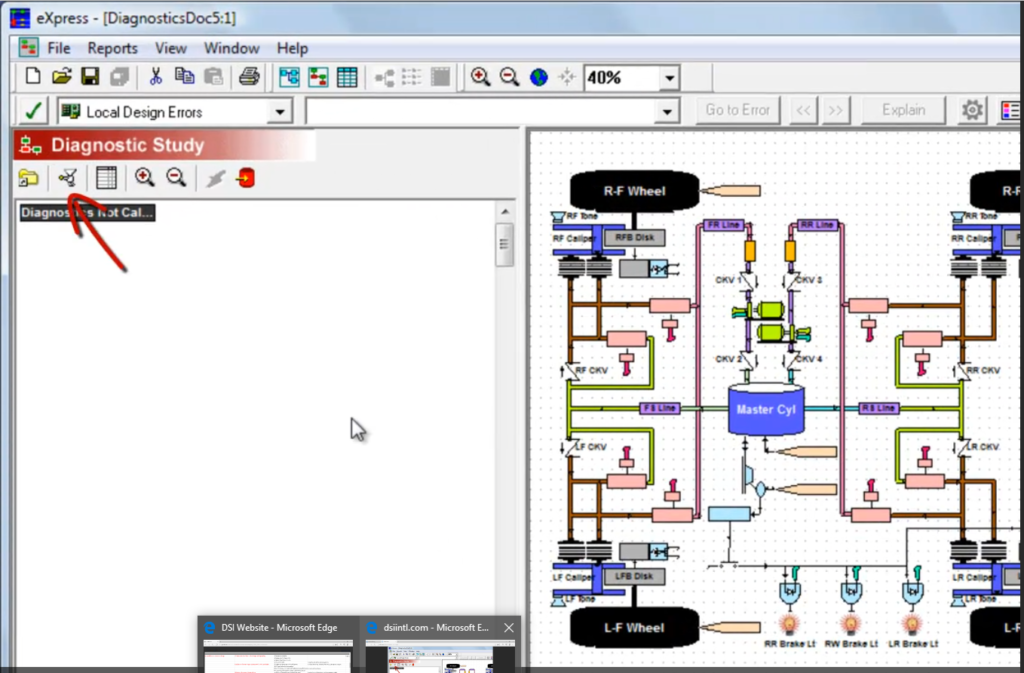 Press the Grinder
Now you're ready to press the "grinder" to enable eXpress to begin to compute the diagnostic integrity of your design, or the portion of the design that you wish to assess. But you'll get much more than simply FD/FI numbers!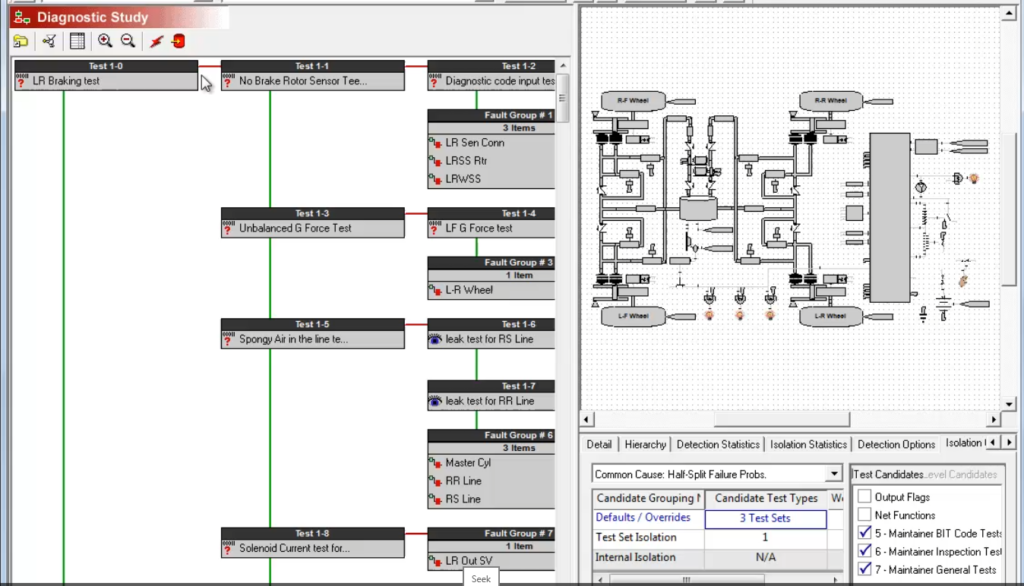 Auto-Creation of Diagnostic Sequencing
The "fault tree" on the left, or as we more appropriately refer to the structure as the "Diagnostic Tree", is automatically created anytime you generate a Diagnostic Study. With the Diagnostic Tree, you can observe that each block in the tree represents a candidate diagnostic "test" that may be performed either for fault detection or fault isolation purposes. Based upon the candidate tests permitted for this Diagnostic Study, we automatically generated the entire diagnostic sequencing or testing "Strategy".
Observing "Good" from "Bad"
The far left column in the Diagnostic Tree represents the "Detection Tests", or "Entry Points" available to the design. Note that as you move down from the top, far left Detection Test, you observe a "Green" line, indicating that the outcome of the "test" was considered "Good".
If the outcome of the test described in the test block was "Bad", then we move to the right in the Diagnostic Tree. When there is no more test blocks, you've arrived at a "Fault Group"!
Review Diagnostics by Striking the "Lighting Icon"
To review the diagnostic strategy immediately from your desktop, strike the Lightning icon! This will bring you immediately into a "Diagnostic Session".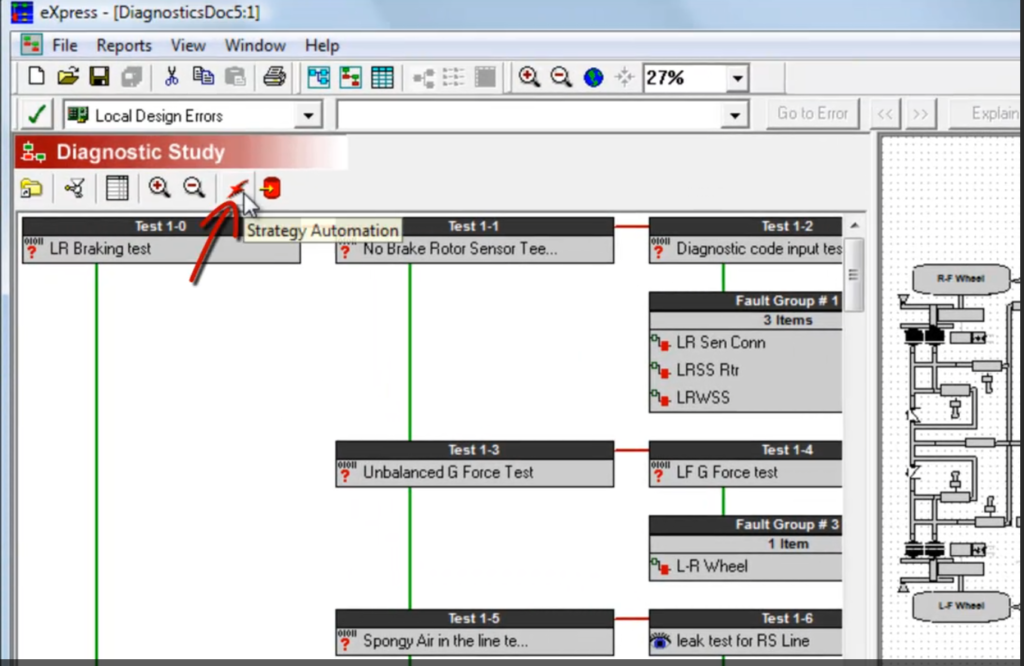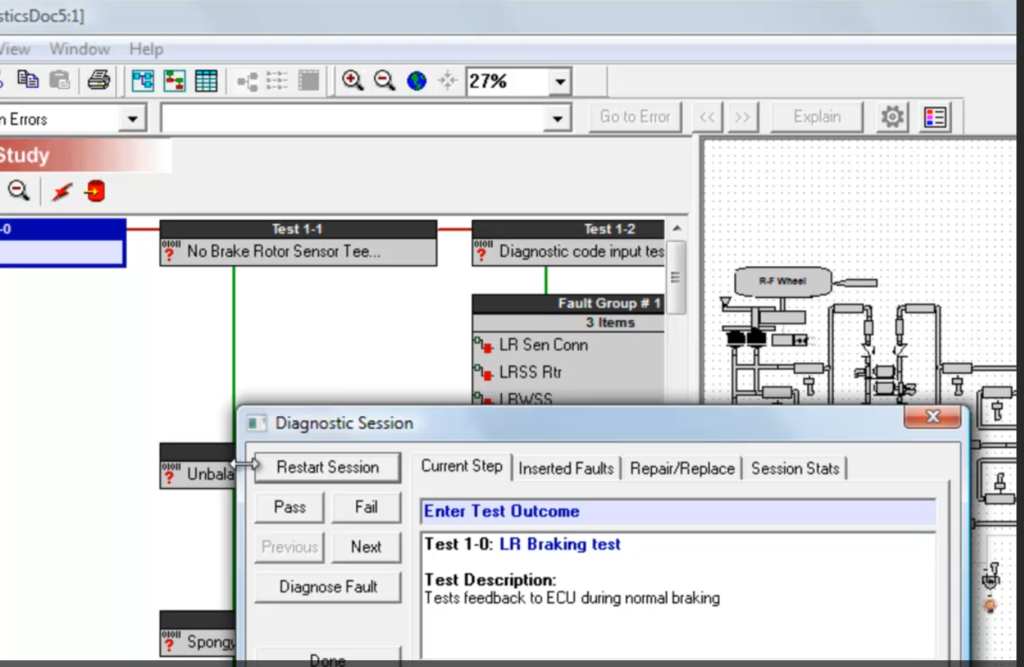 Diagnostic Session
Once inside a Diagnostic Session, you can play along and ensure that the test descriptions and test outcomes that are automatically produced are in concert with the diagnostic capability of your design. You can step through the Diagnostic Tree interactively, or you "Insert Faults" to force the diagnostics to step up its game!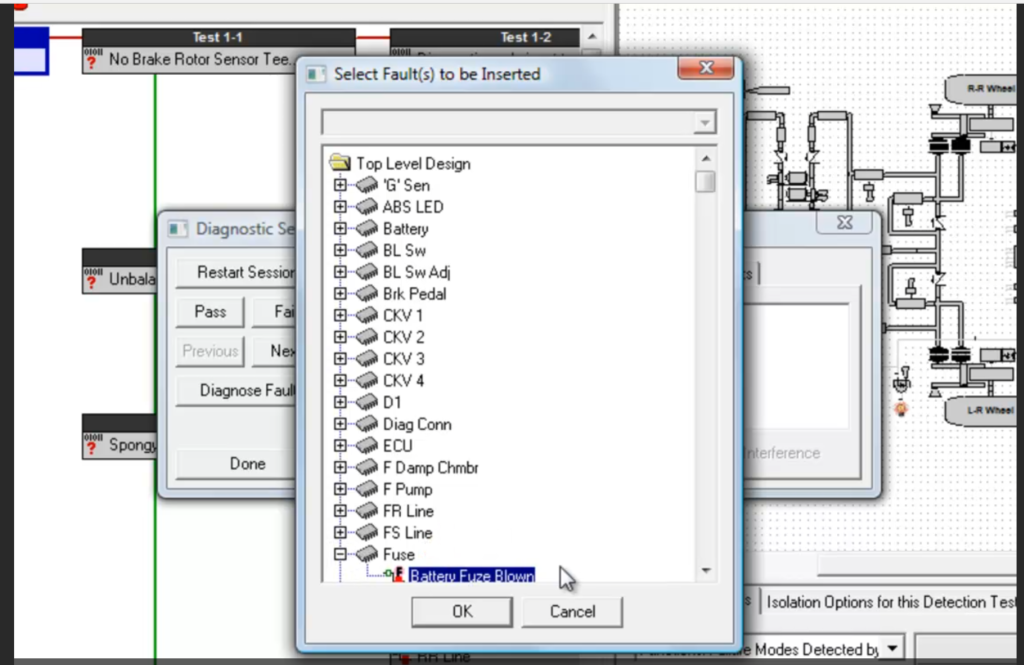 Inserting Faults
Insert as many faults as you wish, or you can easily represent these "inserted faults" as failed BIT codes. If you prefer to discover the diagnostic strategy that would be used to "Diagnose Fault", then simply select "Diagnose Fault". The "Red Box" indicates the inserted fault in the Diagnostic Tree and instantly informs you of the entire Diagnostic Sequence exploited to arrive at the Fault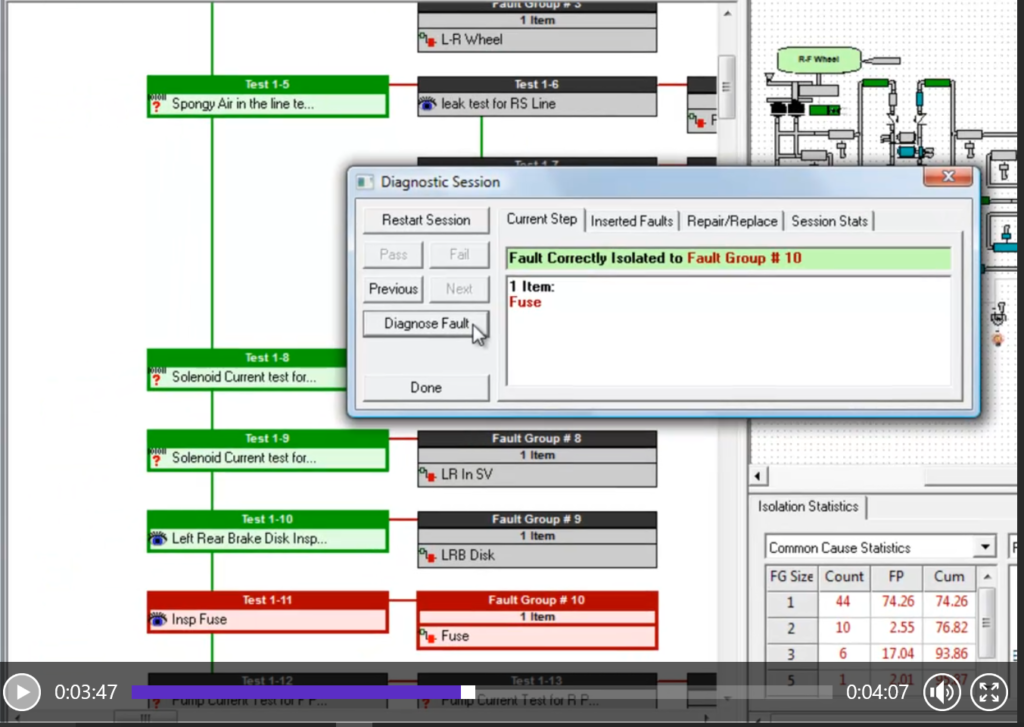 Diagnostic Validation of Design
The Desktop Fault Insertion(DFI) can be used for simple designs as we have seen in this example, or it can be effectively and comprehensively used for extremely complex or large-scale designs. In such an application, you may need to validate the BIT in various operational modes and determine how it may affect your diagnostic conclusions. This Diagnostic Validation capability in eXpress is extremely robust and is used by designers, systems integrators and within DoD.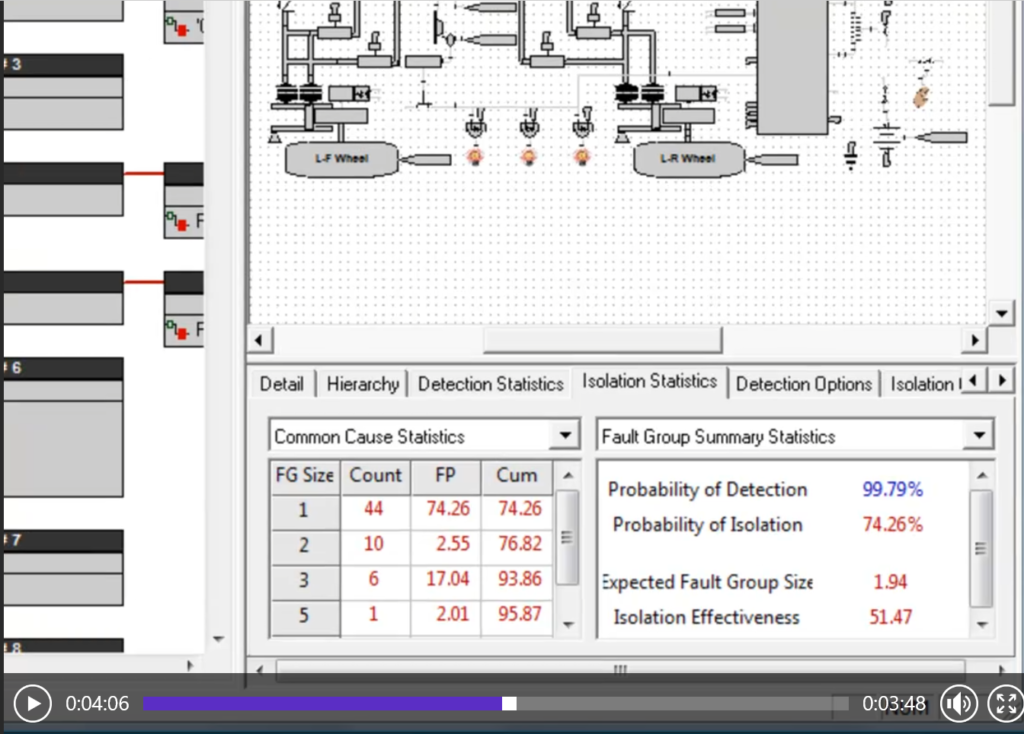 Fault Detection and Fault Isolation Statistics
Part and parcel with any "run" of your eXpress design in a Diagnostic Study, you'll also discover the Fault Detection and Fault Isolation statistics as constrained by your selection of the "candidate tests", diagnostic algorithm and diagnostic integrity of your design and its automated use of eXpress's smart diagnostic defaults.
Regardless of the complexity of your design, EVERY Diagnostic Study is fully repeatable and consistent, provided the Diagnostic Study was performed with identical constraints, or "settings".
Design Changes and Updates – Easy, Push the Button!
The eXpress Model can be updated at any time, as often as desired, or used to experiment with any diagnostic design configuration! Computing the new diagnostic capability (FD/FI) and all of the new Diagnostic Strategies is accomplished by "pushing a button"!
Use and Re-Usage of the Diagnostic Strategy/ies
All of the Diagnostics generated by eXpress is "export ready"!
Why stop at generating the (FD/FI) numbers when you can export the diagnostic data through a one-button push to a Diagnostically-savvy XML schema, or "DiagML"? The value of reuse of any investment made during design development is certainly a tremendous value, but to reuse this investment over and over again, for many purposes or new purposes, is another leap in value.
FD/FI Calculations performed in Spreadsheets versus the eXpress Model
No comparison. The reliance upon the calculations produced in spreadsheets to represent diagnostic assessments, and most specifically, Fault Isolation statistics and Fault Group constituencies based upon test coverage of any test(s), per any operational state of a complex design, is an unwitting endeavor.
The eXpress model configures and represents all of the functional and failure propagation interdependencies regardless of any design constraint or configuration(s). Then, it only requires a simple update to absorb any design modifications or bring the diagnostic strategy right to the field.
Related Videos
Generating a Turn-Key Diagnostic Study