Diagnostic Simulation with STAGE
DSI International's simulation tool STAGE allows for measuring the impact of repair and replacement strategies. STAGE provides a means for examining how components are replaced affect how they fail, system safety, availability and cost of ownership.
Measuring The Impact of Diagnostics / Prognostics / Scheduled Maintenance
Traditional measurements of testability, critical failure and availability do not take into account how replacement affects the end goals of diagnostic analysis: increased safety, increased availability and reduced cost of ownership. A STAGE analysis may include any mix of the different types of maintenance:
Corrective Maintenance – diagnostic replacement procedures – diagnosing and replacing components after they fail.
Condition Base Maintenance – prognostics – predicting failure before it occurs.
Reliability Centered Maintenance – scheduled maintenance – scheduling replacement before it is predicted to fail.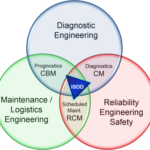 Adapting Measurements to Requirements
STAGE calculations are scripted and are fully customizable by the user. Some predefined calculations are included with the initial installation of the STAGE software. These predefined calculations include:
Testability Fault Isolation/Fault Detection metrics.
Likelihood of a critical failure occurring.
Extra cost or time required to implement types of maintenance.
Measurements of diagnostic false alarms over time.
Any many more…
Users of STAGE are in no way limited to only the calculations listed. STAGE calculations are defined by a set of scripts which are fully customizable by the user. New calculation scripts may be introduced at any time to meet the analysis requirements for unforeseen conditions and requirements.