Modeling a 1553 Bus in eXpress
eXpress can effectively model buses due to its ability to handle complex bidirectionality. The 1553 bus can seem intimidating at first, but with eXpress it is actually quite easy to model and assess. This does make sense as the 1553 bus was designed to be highly testable.
eXpress can analyze the 1553 bus due largely to its ability to mask areas of the model dynamically through state reconfiguration. While two devices on the bus are communicating, other devices can be configured to be silent, for testability purposes. eXpress will still understand that the other devices may not be as silent as they are supposed to be, and thus can still contribute towards failure. However, eXpress's testing methodology, which allows for diagnostic assymetry, supports proving "good" a smaller set than what could cause the test to fail.
Shown below is a 1553 bus architecture with a redundant computer. Using the eXpress diagnostics, the object named "MAN I/O" is shown to be the source of ambiguity because of its location on the bus. It is also a very easy model to follow, since eXpress can layer all its information over a model built for communication. The printout of this eXpress model, along with the diagnostic reports provides an excellent communication tool for bringing the problem to anyones attention. That is, you don't have to begin by first teaching the audience all about how to interpret what they are seeing.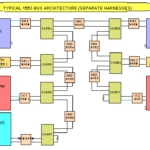 (modeled, diagnosed and demonstrated in 3 weeks)
Concepts that can be demonstrated using this example model:
Design for Testability
Diagnostics Optimization
Fault Group Size Reduction
Testability Assessment
State-based Testing
1553 Testability
1553 FMECA
Test Point Optimization
Diagnostic Test Capture and Development