Early Functional Analysis and Allocation in the System Engineering Process
Early Functional Analysis and Allocation in the System Engineering Process (Part 1)
All credible Testability and Diagnostic Analysis must be based upon an appropriate level of early functional analysis and allocation as identified in a system engineering process. Failure analysis data may be used to augment the functional analysis to provide additional fidelity. An excellent reference for detailed discussion of the system engineering process is James N. Martin's book Systems Engineering Guidebook—A Process for Developing Systems and Products which is available through DSI. The figures below (based on Mr. Martin's book), identify the top level system engineering processes. The "Requirements and Architecture" block shown below is where requirements definitions are analyzed and decomposed into functional elements. If necessary, functional allocations are made and assigned to lower level subsystems.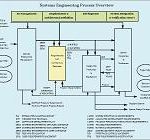 The diagram at the left shows some of the related data sharing and analysis interfaces that must occur with any functional analysis or allocation. Much of this process can be captured within the eXpress modeling and analysis environment and migrated (using eXpress data exchange capabilities) into other system engineering processes. This enables the data to be used and re-used without re-entry or loss of continuity throughout the life of the system. Following a system engineering process while performing testability and diagnostic analysis helps to provide a vision for how the information and data can be shared with other process supplier / customer interfaces. As a very wise man once said: "Where there is no vision, the people perish." – Proverbs 29:18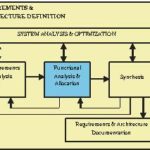 In our next newsletter, we will go to the lower level "Functional Analysis & Allocation" and provide a brief overview of how this process is embodied within the eXpress environment.